Shepherds of Good Hope wants to make your Easter weekend a little less stressful – SOLD OUT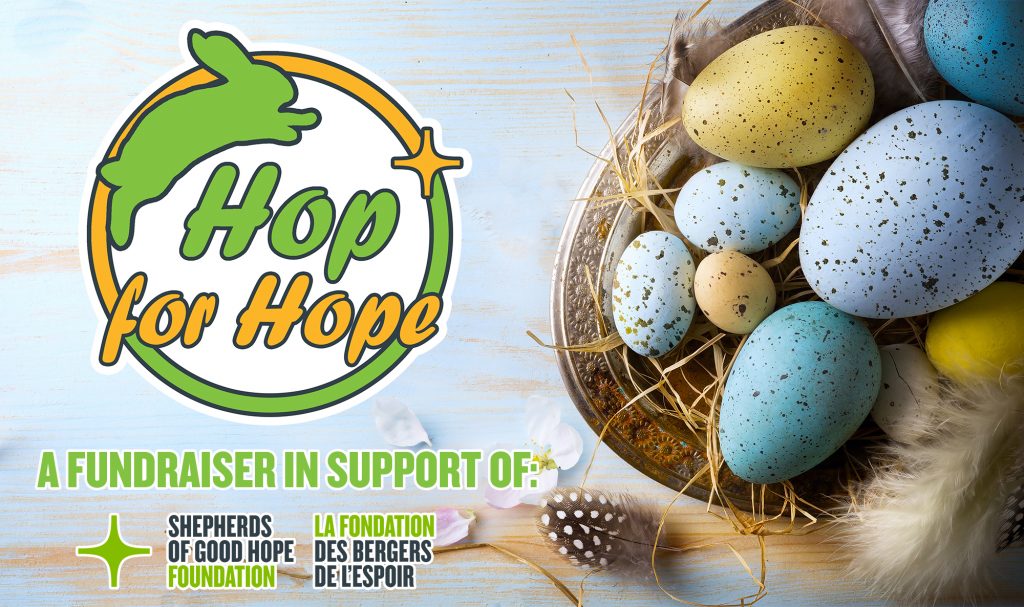 Hop on to this great fundraiser! Spend time with your family and enjoy a delicious dinner, all while giving back, through our Easter fundraiser Hop for Hope. We are SOLD OUT! But if you are able, we are still asking people to donate so everyone spending Easter at Shepherds of Good Hope can have a hot meal.
We have partnered with Chef David Vinoya at the Hilton Garden Inn Downtown Ottawa to prepare a gourmet ham dinner for six to be delivered right to your door. For $125.00, you will enjoy ham, scalloped potatoes, a whole roasted head of cauliflower, carrots, and a box of Easter chocolates.
Deliveries will be made on Saturday, April 3, and will include our easy instruction guide to re-heat your feast. It's as easy as that, no prep required!
Please note, we can only offer deliveries to the following postal codes: K1A 0A0 – K2Z 9Z9 and K4A 0A0 – K4A 9Z9. If you live outside of these delivery areas, but would still like to participate in this year's Hop for Hope program, please contact us, as we would be happy to discuss a pick-up option with you.
Already have Easter dinner plans but still want to ensure the people we support at Shepherds of Good Hope enjoy a warm meal this Easter weekend? We will be offering the option to sponsor a warm meal for some of our city's most vulnerable individuals. The average cost of a plate is $2.58 – every year we serve 700 meals on Easter.
With a donation of $50.00, you will provide meals for 20 individuals currently experiencing homelessness, helping to give hope and dignity during this season of thanks. Donate now, and you will double your impact! From now until Easter weekend, Broccolini Construction will match up to $5,000 in donations. This means your $50.00 will ensure 40 individuals receive a special Easter dinner!
Included in your box will be a Giving Gertie bag. Giving Gertie is a not-for-profit organization that raises funds for Shepherds of Good Hope to help people who utilize our services. The reusable cloth bag includes a fruit bar, a chocolate bar, a mask, and a Tim Horton's gift card. When a Giving Gertie bag is given out, a connection is made between both people.
Your generous support allows us to provide warm meals to some of our community's most vulnerable residents. Donate today, and help ensure everyone can have a hot and heartfelt meal this Easter weekend.
Purchase your meal below (Please note, we will be providing tax receipts for a portion of the purchased Easter dinner cost. At this time, we anticipate the value of the receipt will be approximately $50.00. This will be dependant on final supplier costs.):
Thank You to our Partners