Shepherds of Good Hope wants your Easter weekend to be a little less stressful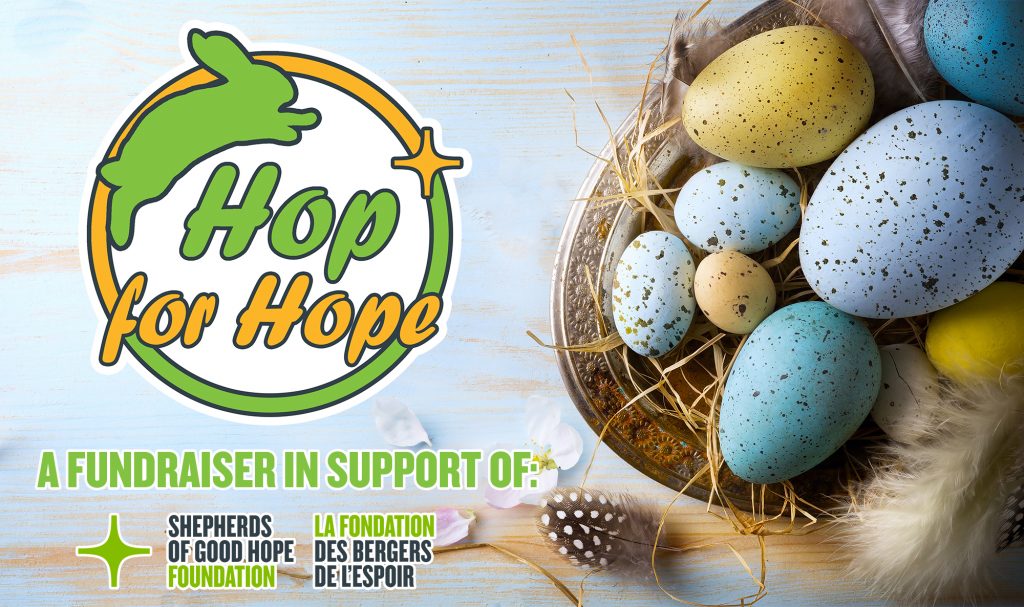 Hop on to this great fundraiser before it's too late! We're nearly SOLD OUT!! Spend time with your family and enjoy a delicious dinner, all while giving back, through our Easter fundraiser Hop for Hope.
We have partnered with Chef Pat Riggins from Riggins Family BBQ who will prepare a gourmet ham dinner for six delivered right to your door. For $150.00, you will enjoy maple-cured applewood smoked ham, cheesy scalloped potatoes, honey roasted local root vegetables, and a gala apple crisp. It all comes with our easy instruction guide to re-heat your feast. Deliveries will be made on Friday April 15th by our delivery partner Trexity. We are very thankful and excited for their partnership.
Already have Easter dinner plans but still want to ensure the individuals we support at Shepherds of Good Hope enjoy a hot meal this Easter weekend? You can sponsor a delicious meal for people experiencing homelessness in our city. The average cost of a plate is $2.58, and every year we serve nearly 700 meals on Easter. With a donation of $50.00, you provide meals for 20 individuals currently experiencing homelessness, helping to give hope and dignity during this season of thanks.
Included in your box will be a Giving Gertie bag. Giving Gertie is a not-for-profit organization that raises funds for Shepherds of Good Hope to help support those who use our services. When you receive a Giving Gertie, give it to people in need in your community OR give it to a friend or family member as a gift that keeps on giving – so they can pass on the bags to people in need in their community. When a Giving Gertie bag is given out, a connection is made between both people.
Your generous support allows us to provide hot meals to some of our community's most vulnerable individuals – people experiencing homelessness, people exiting homelessness, and people living in our supportive housing residences. Donate today, and help ensure everyone can have a hot and heartfelt meal this Easter weekend.
They're almost gone! Purchase your meal below (please note, we will not be providing tax receipts for the purchased Easter dinner cost, but any additional donations will be receipted):
Please note that the areas in the pink boundary (shown in the picture below) are our delivery zones. The Easter meals will only be delivered in this area. If you are not sure about where your address falls, please email donate@sghottawa.com
Thank You to our Partners
About Our Chef – Pat Riggins
Pat Riggins, has spent his career cooking high-quality food at some of Ottawa's top hotels. When the pandemic hit, he wanted to share his love of cooking with the community here in Ottawa and Riggins Family BBQ was born. As a father of four daughters, yes, you read that right… FOUR daughters, Pat understands the pressure most families face juggling work and home life. Most people don't have the time or ability to spend 18 hours cooking a brisket to perfection. With the uncertainty of lockdowns, he knew people needed food that was adaptable to pandemic restrictions.
With Riggins Family BBQ, Pat found a way to deliver food to his loyal customers, and keep the quality for which he's known. Riggins Family BBQ's solution was to do cold food pickup and delivery, where he would prepare the food to its perfection, then quickly cool and Vac-Pack it with Riggins Family BBQ's signature mop sauce. You can easily reheat your meal and enjoy at your convenience. Riggins Family BBQ's products can be kept in the fridge or freezer until you want to enjoy them. Choose from six pre-made meal kits or build your own BBQ from their a la carte menu. Pat is so excited his family will be able to feed the community again!