Everything has changed
– except kindness
By Deirdre Freiheit, President and CEO of Shepherds of Good Hope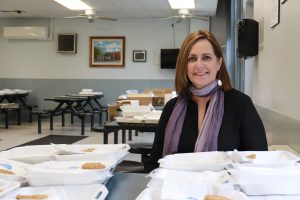 Life has changed rapidly in less than a month. For those on the front lines of this pandemic, there's hardly been time to reflect as we work around-the-clock to support vulnerable individuals who need us now more than ever. For others, new found time through forced isolation and job losses has hit hard.
The current housing crisis looms large. People on the streets are at risk every day. Their health is compromised because they're homeless and now they are at great risk. Those who don't have a home can't self-isolate.
In times of uncertainty, Shepherds of Good Hope is a beacon of hope for many. For those who have lost connections to families and friends, we are here to help. In times like this, community support becomes even more crucial.
In 10 short days, we've changed how we operate every program and service in our 5 locations. We've cancelled our evening drop-in program that was open to the community 7 days/week and provided not only food, but social supports.
Soup and sandwiches in the evening to get people through to the next day now cannot be offered. In addition to food poverty, the poverty of loneliness is high among people who are experiencing homelessness. Gathering each evening in our evening drop in and participating in activities that were offered there, helped people to feel part of a community. It was a difficult decision to cancel this program a time when so many other community supports have been removed.
We now offer meals in "to go" containers and serve people outside. No visitors are allowed to see their loved ones in our supportive housing residences. People need to leave the shelter en masse so that we can do a deep clean daily. We must do our part to stop the spread of this virus.
Despite the monumental challenges we face, we are beyond grateful for the kindnesses shown during this time of uncertainty. Here are some of the heartwarming things our community has done to support us:
Our neighbours on St. Andrews Street made meals for our residents in supportive housing
Family Foundations have donated funds to help alleviate increased costs
Businesses – many who are negatively affected by this pandemic – have reached out and made donations
Individuals have signed up to be new monthly donors
Our loyal donors have increased donations and new donors have come forward
People have sent kind messages to our staff and clients to let them know they are not forgotten and our community is with us
Distilleries have made hand sanitizer to address the shortages
Volunteers are sewing hospital gowns for our staff
The Lowertown Community Association supported our need to set up an isolation center for homeless individuals at the Routhier Center, which is crucial in assisting our community during this state of emergency
This is kindness at its best and this list is by no means exhaustive.
We are working tirelessly to ensure that those who access our programs and services are looked after to the best of our collective abilities. We are in awe of the work carried out by our front line staff and facilities services team; our finance, human resources, community and volunteer services, client services, information technology, shelter and supportive housing teams; our managers, fundraisers, communications and senior leadership teams. We simply couldn't do this without them.
Although the number of volunteers who assist has decreased for health and safety reasons, many still make meals in our soup kitchen every week. Many of those who are able have increased their hours, new volunteers are being on-boarded, and our loyal volunteers who have to stay home are reaching out to help in many other ways.
While we are used to adapting at Shepherds of Good Hope, COVID-19 may be our greatest challenge. From adversity comes hope and kindness reaches new heights. To paraphrase a quote I love, "Remember there's no such thing as a small act of kindness. Every act creates a ripple". Thank you from the bottom of our Shepherds' hearts, Ottawa. We appreciate your kindness. We are overwhelmed with gratitude.
Homes for all. Community for all. Hope for all.